What the heck is a Pietenpol? It's a 1930 open cockpit designed by Bernard Pietenpol. It is a two place, wood and fabric ship that cruises about 65 to 75mph.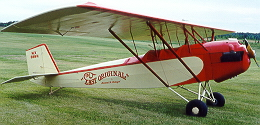 In 1928, Mr. Pietenpol built and flew an airplane of his own design. The airplane was a single place open cockpit monoplane made from wood obtained at the local lumberyard, fittings fabricated from a blacksmith shop, and a covering of bed sheet material painted with clear varnish. The landing gear was constructed of gas pipe and motorcycle wheels. The prop was hand-carved from black walnut and powered by an Ace four cylinder water cooled engine. The airplane flew very well accumulating over fifty hours in the first two months.
Several design modifications followed during the next five years; however, the basic design remained unchanged. During the process of modifications, the airplane became a two place with space for a passenger. The split axle landing gear with air wheels improved take-off and landing characteristics. The Ford A engine became the standard power plant turning a 78" x 42" propeller. The final design and drawings for the Air camper were completed in 1934. No further changes have been made to the original drawings. The picture shown is the last one Bernard built and is flying today.
I'm building mine from the 1934 plans. This will definitely be a LONG TERM project. Take a look at some of the construction pictures. (double click on picture to enlarge)
Bernard Pietenpol
Jack Phillip's Piet
Vitalis Kapler
Tom Brown's Piet
Dan Helsper's Piet
Helsper Panel
Don Emch's Piet
Ken Perkin's Ship
Andy & Don Pietenpol
Edison's Piet
Mike Cuy's Piet
Frank Pavliga's Piet
CONSTRUCTION PHOTOS (Engine Assembly)
Tom Wottrung did the pre-assembly, a fantastic fellow!
Starting assembly
Original tolerances
re-manned cam
Silk thread
Main bearing
Tom
That's an aircraft engine, no snapping crank here! Case closed
Proud owner
Fantastic Teacher!
CONSTRUCTION PHOTOS (Wheels)
This is what I started with, a mess, brake disk too small, uneven hub
Very poor work
9" disk
Cleaned up the left
Coming together
groove for grease
Silver coat
Gloss 2nd coat
Nice gloss
CONSTRUCTION PHOTOS (Bell Crank)
Ken Perkins design
Turned bearings to fit
Design ensures less slack in cables
2 pictures on right - part is shown reverse of plans
Machined thrust washers out of .050 for each end of Bell Crank tube
Elected not to use washers, capped bearings instead. String stretches too much, will use cable
Ready for oven
Need bigger oven
CONSTRUCTION PHOTOS (Controls)
Front torque bearing
Aileron control horn
Safety strap formed over larger diameter tube
Elevator Stop
Powder Coated
Elevator pulleys
Plan to re-paint
CONSTRUCTION PHOTOS (Rudder Bar)
Trial fit
Used 1/2" on left
Tacked only
CONSTRUCTION PHOTOS (Center Section Tank)
.032x21"x27"x5"=13 gallons aprox, riveted and Prosealed
Turned fuel fittings
Indexing on Lathe
Fuel float trial didn't use
Used this one
CONSTRUCTION PHOTOS (Fuselage)
.090 cabane lower fittings, after fitting side ply will drill from inside out
Soaking 1/16" ply
1/16" Okume
Nice bend
Template
Belt but-outs
Brace for 90 degrees
11 stringers
375 lightening holes
Helmet box
Front seat back
F-seat supports
More F-seat bottom
Front seat
Seat going together
Brace form
1/16 x 1/2 ply strips
Thin super glue
Done
Panel test fit
R-seat lap belt point
Left side belt hard pt
Access panels cuts
Gluing backstops
1" panel compartment extension
1" extra allows long electric turn & bank
1 of a 100 layouts
1/16th bit for straight cut and knife for curve
24 1/4 wide
Trial fitting
Very little glued at this point
Gluing cowl supports
Drill jig for strut fittings
Way too many choices for panel layouts! Which will win?
Winner! I think...compass will be in center section, GPS on top of cowl behind windscreen.

Faint diagonal lines depict aileron cables behind panel.

Plan to re-cut
Too close
May do overlay
Using the right box
Cutout w/razor knife
Belt clears box
Instrument access
Lockable
More trials, not sure on portable nav/com, will use transponder
Don't install wedge here as I did
2nd & 3rd pics-cutting out block in the way of lower engine mounts. I elected to NOT cut
lower cross piece to make way for mount. Altered mounts raising mount 1/2"
Upper mount
Lowers mounts
A big help for boring perfect holes, it works!
Mounts aligned and drilled, all fittings and holes matched very well, a good day!
CONSTRUCTION PHOTOS (Gear)
Gear fitting, 110 degree bend, still cracked, may re-design with 3 pieces
Went with .130 1018 strap across bottom, .090 4130 doublers and side plates before welding

Don't forget

1/8" spacer for sides

New Grizzly G1006
Gear struts
Female & male ends
Scott tail-wheel, 4-1/2 pounds, 6"
Before clean-up
Before powder coat
Not happy with purchased hub, plan to redo, nice powder coat though
CONSTRUCTION PHOTOS (Tail Group, Spars & Ribs)
Right elevator
Right elevator
Shot weights
Right elevator
Slow but sure! 11-05
2 1/2" hole-saw
Sand on drill press
Cut out for hinge
V Stab tip
Getting closer
Ribs
H Stab and Elev
New bench for fuselage
End ribs w/uprights
Ribs done!!!
Web & cap stock
1/12 scarf for web
Ready to glue
Top one done, nice!
Pretty good joint
Fir stock for caps
Ripping & planing
Many blades later
Gluing
More scarfs, 1 p/cap
Trial spars, 9mm, 7 ply webs, 5/16x1"+ caps
Spar drawing
C-Section started
C-Section strap
Gluing 2" rib cap
L-rear cabane fitting
Starting 2nd bend
Makeshift brake
Front cabane fitting
Cabane fitting & strap
Ready to weld
Front fitting
Rear Fitting
Elev & rudder horns
Bead roller for horns
Larger roller
Harbor Freight 34104 is 18"
12" model would be big enough
Aileron horns
Horn braces
Rudder horn brace
Great weld!
Special thanks to Jerry Grogan for his expert welding on the critical parts!
Control horn (oversized)
Welded horns
Remade both of these
Sticks tacked, will leave final welds to pro
Center bearings
Outer bearings
Wingtip braces
C-section trial fit
Drilling straps
Strap ply, don't glue yet
Pedals started
Didn't use, made thicker
C-section cut-out
Straps done!
More C-section
Left wing started
From outboard end
Wingtip Glued
Four fir plys
Clamped tip
Gluing root doubler
Comp strut cut-outs
Comp struts test fit
Scarfing 1/16" LE
Root rib cut-outs
Additional brace
Aileron end
Cross brace seat
Must be cut out
C-section-L-wing test
Test fit
Cutout progressing
Trailing edge cut out
X-tra comp struts wing tip
First coat varnish
2nd wingtip formed
Mounting hardware
More hardware
Tip brace-drag wire
Fitting aileron hinge
Nutplates
Aileron hinge
Wow it works
Inboard end
Need more angle on both bearings
Bottom
Root rib braces-rear bay
Inboard rear bay